Ship safety management system –  LPSQ/QHSE
A completely integrated ship safety management system that supports all operational and administrative workflows in the maritime industry. This module ensures your ship complies with regulatory requirements, alerts you to non-conformities from audits, near misses, inspections, or accidents so they can be remediated before an accident happens onboard your vessel. The HSQE modules enable tracking of inspection attendance as well as toolbox meetings and safe drilling participation by crew members on board ships across the world.
smartPAL QHSE software helps to eliminate the administrative load of relevant shipping industry regulations, classification rules, vetting inspections or Port State Control. Nevertheless, the ship safety management system aids you regarding quality, safety and compliance with those rules and regulations.   Experts in QHSE require expert ship safety management systems to support compliance and beyond, ensuring effective and efficient day-to-day work procedures.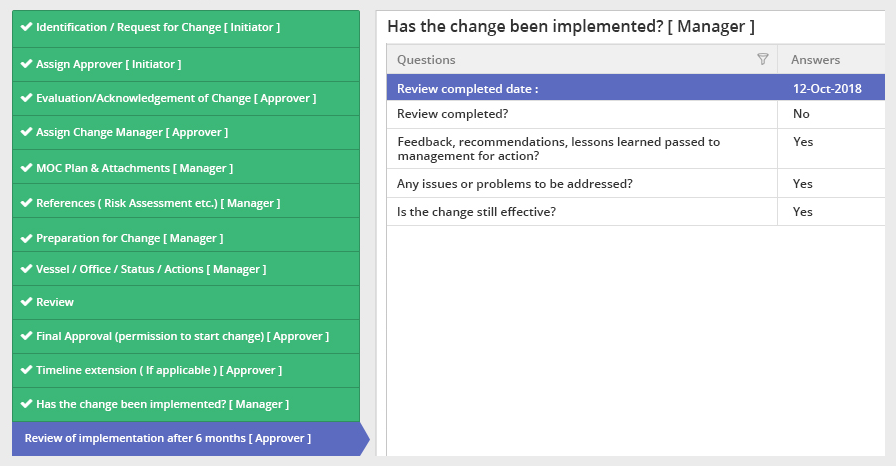 Safety Management Software for Ships – LPSQ/QHSE
Provides a rich set of reporting and dashboard tools for audit and inspection follow-up, monitoring, and analysis.
Near miss or accident reporting by vessel and follow-up within the system
Monitoring and follow-up of findings & NC's till closure and action by both office and vessel
Identify and assess findings/NC with root cause analysis
A rich set of reporting's and dashboard tool for analysis, monitoring and management controls
Using smartPAL ship safety management system LPSQ/QHSE you can:
Audit & Inspection Planner – scheduling and control inspection, vessel visit and audit activities across the fleet and the company
Efficiently manage ship safety and management meetings and drills.
Questionnaire bank based on industry (
SIRE/CDI
VIQ etc.) and customizable requirement, flexible in structuring for different reporting purpose