Complete and comprehensive maritime solutions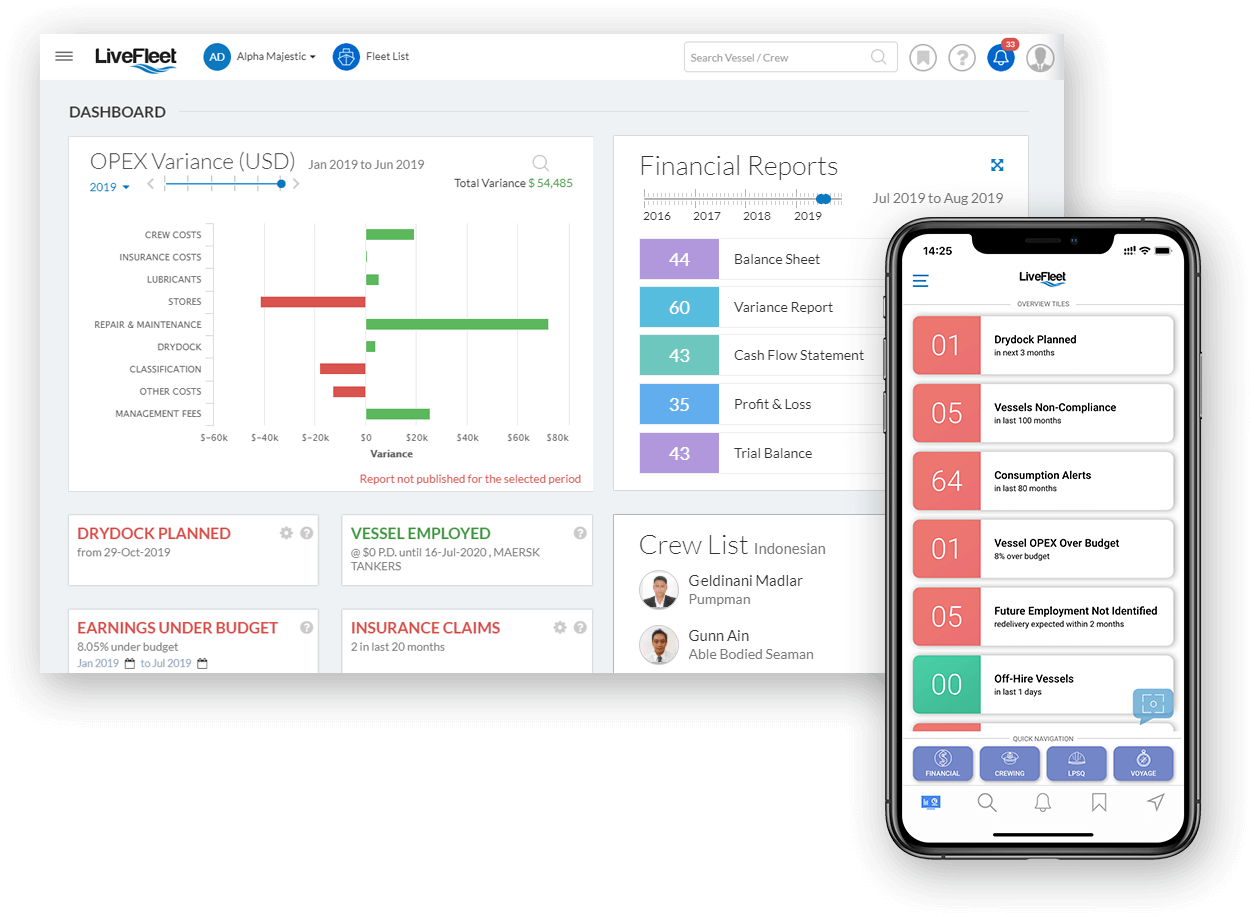 Make instant actions with reports and interactive dashboards
The application exclusively designed for ship-owners to access all the vessel information in just a glance. Owners can track vessels in near real time, with all key parameters they want to know using the vessel tracker. Access and monitor any information relating to vessel, expenses, performance and voyage readily.
Details on vessel, performance and fuel optimization
Track and monitor vessel position, even the current speed of the vessel at anywhere anytime
A single point of data access for the owners, eliminating the maintenance requirement of various spread sheets
User can give live comment and get customized reports as required

Web based vendor platform enabling quick procurement processes
Web based end to end ecommerce solution, the reliable and efficient way to process transactions. smartPAL eConnect has direct interface for exchange of goods and services. smartPAL eConnect can be directly integrated with external systems as well as with other smartPAL modules enabling seamless data flow throughout the transactions.
Availability of Vendor profiles
Easy exchange of quotes and POs
Information on goods received and invoices
Integration with logistics solutions, warehouses and forwarders
Export and import data through excel and PDF
Flexibility in data exchange format
Improves communication, performance and process efficiency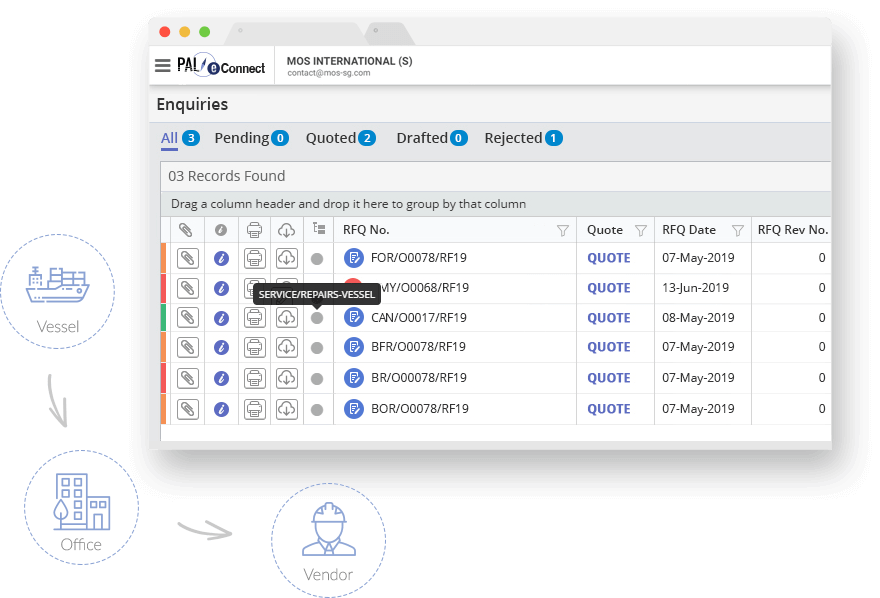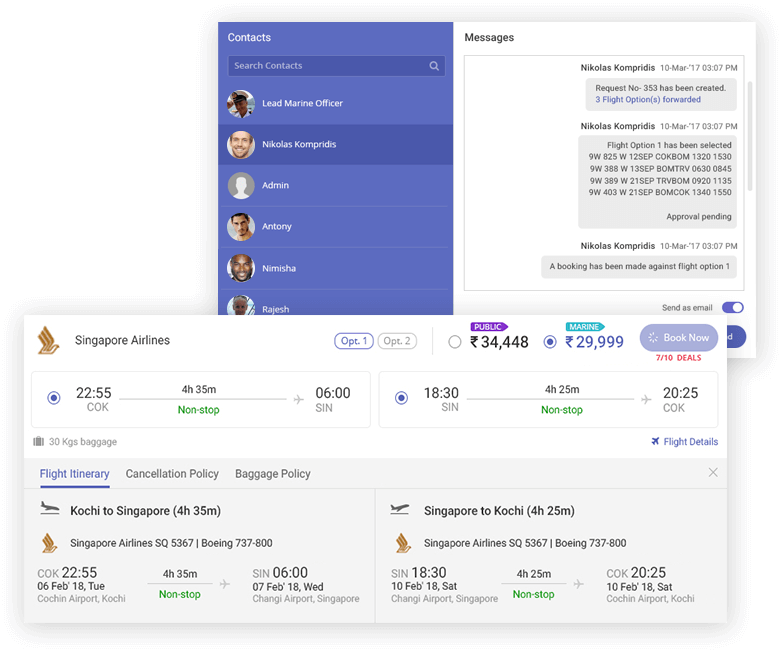 Holistic travel management system that acts as a bridge between the corporate companies and travel agent groups. Can be standalone product or can be integrated with HR, Crewing and Accounting systems. Trip Planner aids in creating travel requests and tracking them all in one place. Travel agents can manage the travel request, raise ticketing options and can process them. Trip Planner provides management with reports that provide insight into travel spends, destinations, and other key points of interest.
Optimize ticketing, travel requests, destinations and spends
One single solution for travel agents and for their customers
Simple and intuitive to configure, manage and to use
Create, track and manage all travel request in one place
Tailored ticketing process to suit ship management companies
Achieve minimal assistance from travel agent
Integration with GDS systems worldwide.
Integration with HR, Crewing and Finance systems
Obtain public fare, marine fare and corporate fares
New Building module is used to track the progress of construction and testing activities of ship construction. This module is capable of reading the data selectively from the excel templates provided by ship builders / site managers regarding the new building progress. The system presents the injected data in graphical and tabular manner for analysis. The system provides weekly as well as monthly reports of each project. Apart from weekly and monthly reports, various other reports can also be generated to provide the status of the new building activity to the concerned stakeholders. The module is also used as a repository to store and manage all ship building documents
Dynamic highly customizable graphical weekly and monthly report creation
Rich UI dashboards to review the progress of new building activity
System can read data selectively from any excel template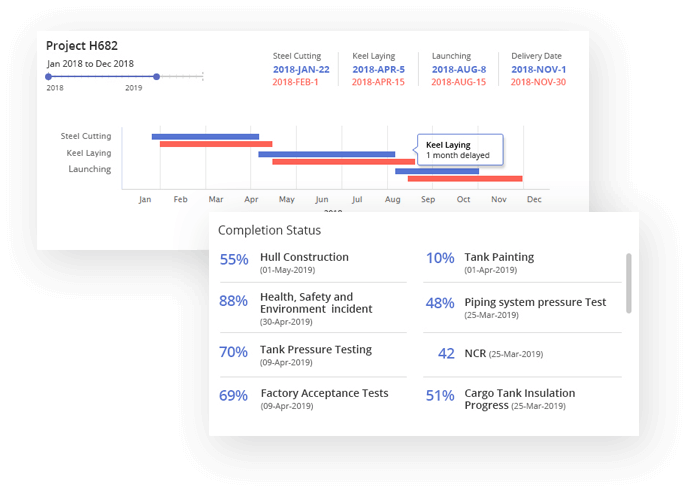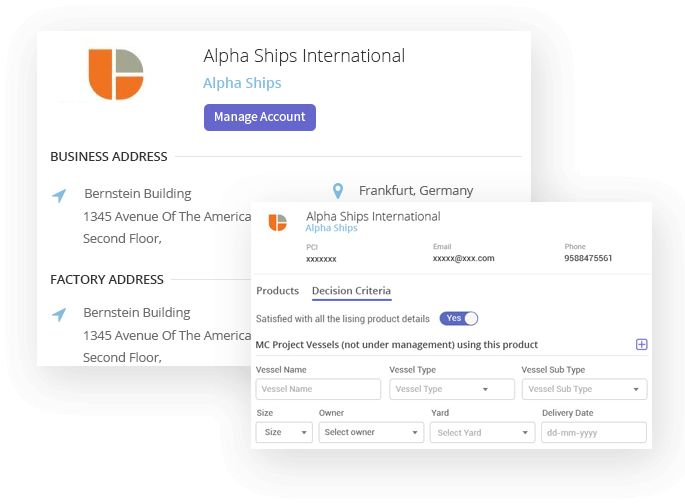 This module is a data repository of vendors and manufacturers of ship parts and machineries. It contains a portal which can be used by vendors/manufacturers through anonymously or by invitation. The data pool consists of company details of vendor or manufacturer, product company history, location of manufacturer and product details with product and equipment list, track record and capacity, clients, agent and worldwide service, company and product classification. The approval process of company or products handled through an office module. The features like rating company or product, decision making criteria, OPEX cost calculation, unplanned jobs etc. are also available in this module.
Sophisticated search of products
Features to rating company or product for easy decision making
Facility to calculate OPEX cost and unplanned job costs
Through the portal, makers can register themselves with primary company details in the weblink
Plan Approval Module is a document flow control system to review and approve ship drawings. A single/collection of ship drawings can be uploaded under a project and a workflow is assigned against each project. The ship drawings will flow across various users such as ship builders, plan approval coordinators, experts, ship owner etc. according to the workflow defined by the user. An industry standard sheet (for approving a ship drawing) called Plan Comment Form (PCF) is present for each drawing. The PCF form is divided into two sections called Builder and Buyer section. The ship builder comments on the Builder section and the remaining users (such as experts, owner, technicians, Plan approval coordinator, etc.) comments on the Buyer section. A drawing gets finally approved when all the comments gets closed in the PCF.
Sophisticated system for managing ship drawings
Customizable workflows
Industry standard Plan Comment Form
Facility for upload / download of Offline PCF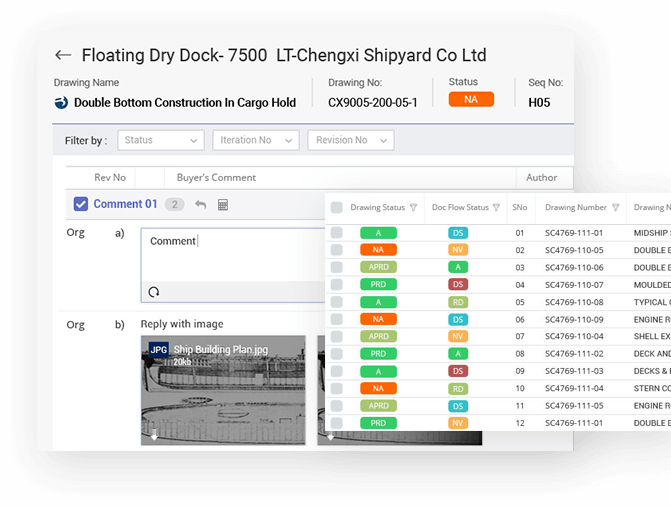 Stay up-to-date on the go!
Must have applications for seafarers, owners and stakeholders to stay informed on the go.  Now with Mobile applications from MariApps track the crew and vessel activities, financial processes, owners reports via different applications. Now access all your information in your palm anywhere anytime. With Mobile applications on ship management and owning functions quickly access the most relevant information, check budgets and grant approvals, have crew information, travel, payments, certificates and a lot more on the go.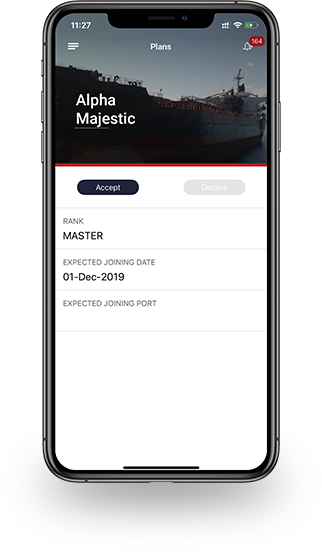 The new Seafarer Portal- an app that can streamline all crew  information and processes effortlessly. Now seafarer can access all their data and access information on and off the vessel. A self-service portal that can act as a one stop information portal with push-notification alerts for all the information seafarer need during and after their contract period. Significantly reduces expensive and time-consuming telephone communication between seafarer and the fleet department. Seafarer's can submit expense claims and allotment request through this portal
Seafarer's documents, and alerts for expiring documents
Next date of availability of the seafarer
Details on open positions available with the fleet
Payroll amounts processes and allotments paid
Information on training, certifications and their expiry
Planned vessel voyages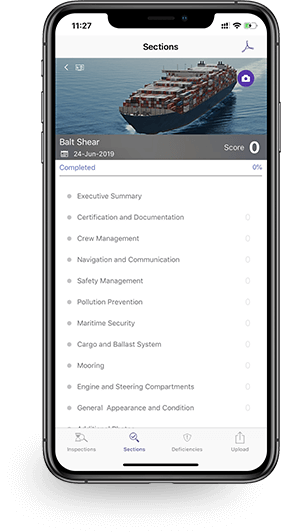 Inspection Reporting Tool (IRT)
A complete inspection tool at your palm. Enable vessel audits and inspections with recorded audio comments, photos and scores, for a smoother transfer of data and reports. Works as a standalone application as well as an extension of LPSQ laptop module. Inspections can be carried out offline.
View past inspection reports, highlighting problem areas
Full list of open and closed deficiencies along with corrective actions, preventive actions and root cause analysis
Access to vessel past audits and inspections
Record inspection with audio comments
Snap and attach photos to the identified deficiency
Update inspection checklist
Sync data and reports to web platform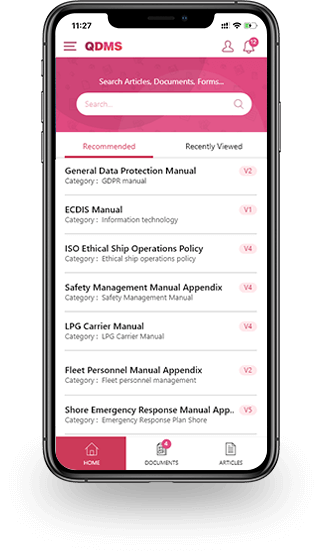 QDMS is an efficient centralized system for management and maintenance of different documentation from teams including safety management manuals, quality management manuals, technical documents, rules and regulations etc. on shore and at sea.
Flexible structure to suit document management needs for various sizes of shipping company, with global or local offices.
Supports all document types – policies, procedures, forms, manuals, safety advisory notes etc. internal or external documents. Efficient workflow for document creation, revision, review, approval and publishing.
Full document management control throughout the document life-cycle e.g. version control, and archiving.
User-friendly, powerful and efficient document search facilities E.g. full text or refined search, result list with document preview.
Efficient replication of documentation from shore to vessels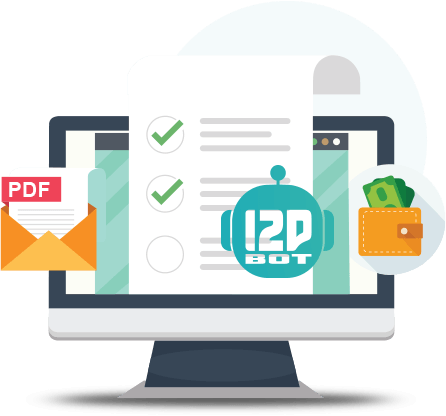 Completely automated scanning solution for efficient procurement
I2P bots are cognitive automation solution to enable an efficient purchase to pay cycle MariApps smartPAL presents i2P bot to scan, interpret and extract data intelligently for the invoice processing systems. Transforming long cycle times and delayed payments to efficient and error-free systems with cognitive automation bot in the well advanced i2P module. Mitigate recurring manual process and make your business move faster with smartPAL i2P
Can monitor the duplicated invoices and reduce the downtime.
Discover the special characters in the invoices and add it to the data dictionary.
Organise unique invoice formats as templates
Scale seamlessly to few invoices to millions
Authenticate a generic invoice.
Track when the invoice was received and processed.
Deliver at least 80% accuracy in scanning
Can be used for multiple offices operating from various geographical locations.
Protect scan data against tampering.
Ensure safety and security of the applications mitigating threats
Protect the vessel systems and data from Digital attacks. Be it any malicious software or application aimed at interrupting the business process or destroying information. Innovative and Cybersafe solutions from MariApps helps you to monitor all the information and data transfer in the system.
Collect the hardware, software and network information from the PC
Monitor users activity, patch data, software installations, configurations, data backup, and windows settings, everything can be controlled with MaxV tool
MaxV aids any sort of configurations or software installation, patch installation, data backup, by preventing cyberattacks and mitigating threats
Control and manage of cybersecurity risk from vessel PCs, monitor Data back up
Detect and eliminate issues or malicious softwares