Complete and comprehensive maritime solutions

Central and efficient monitoring of information related to your vessel, expenses, performance, and voyage on one comprehensive display.
The desktop module and mobile application are designed specifically for ship-owners to access significant vessel information concurrently. In the interest of saving time, owners can be updated and track vessels in near real-time on the go, with all the following key parameters highlighted to them:
Financial reporting: Monthly OPEX variance reports with comments and drill-down feature for details of transactions and invoices
Vessel position: Real-time vessel position and speed, along with full tracking history and the next port calls scheduled
Crewing: Certificates and experience summary of crew on board, along with timelines for contract periods, sign-on and sign-off dates
Operational performance: Noon reporting data, updated daily and key vessel performance and consumption metrics
Environmental performance: Energy efficiency, emission, and waste management data
Maintenance reporting: Spare part inventory and job overviews for each equipment
Purchasing: Approval feature for quotations and purchase orders as well as confirmation system for deliveries on board
Ship Certificates: Full repository of certificates with dates of validity and scanned copies of surveys forms and service reports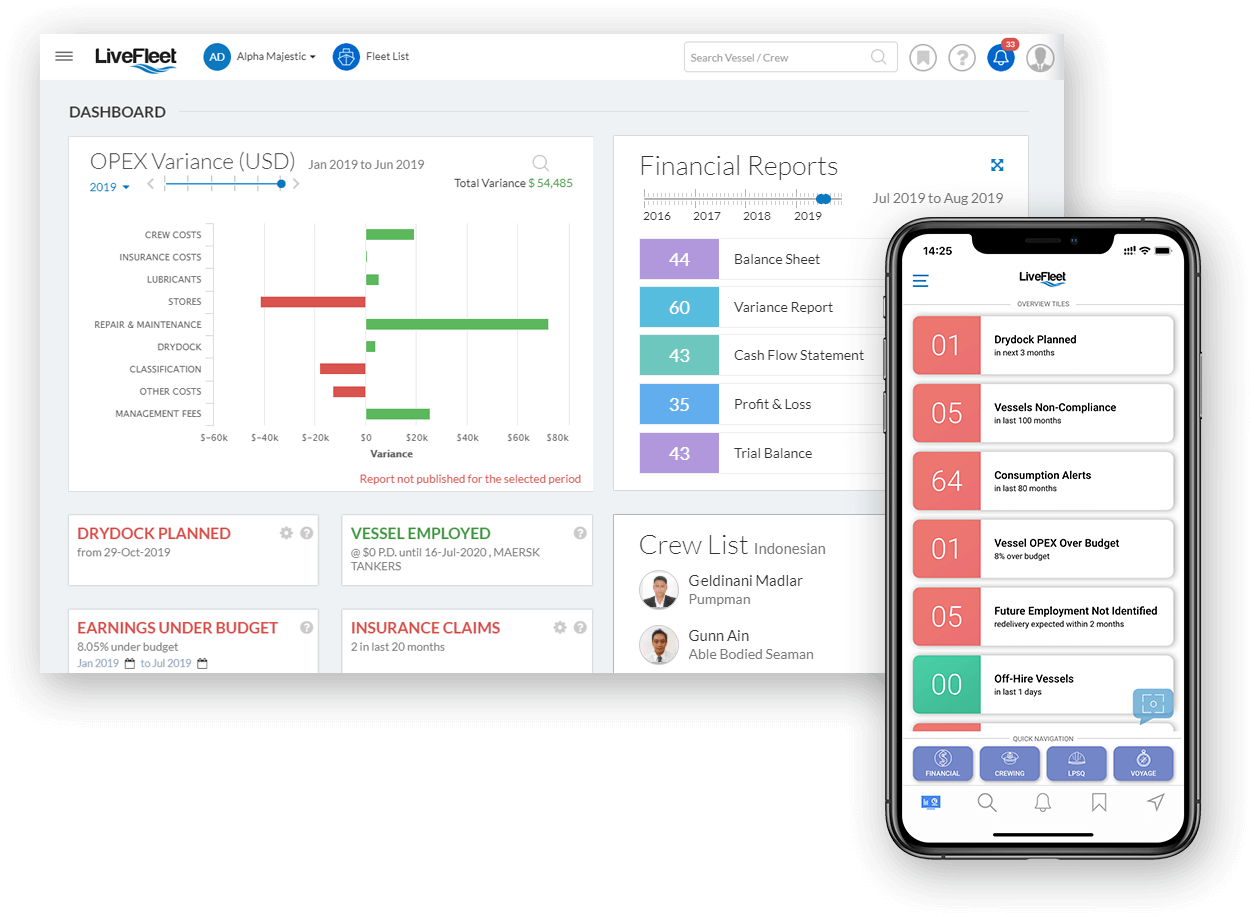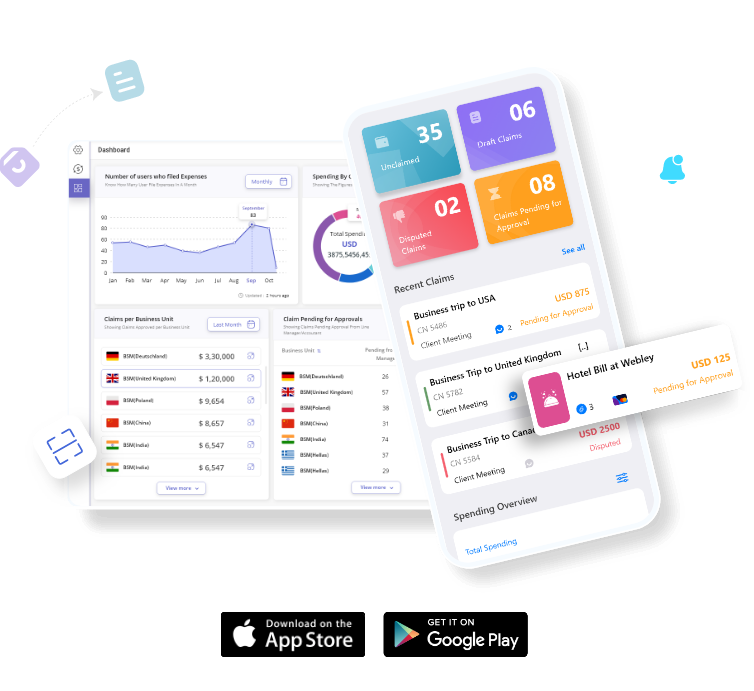 Comprehensive claims and reimbursement processing software
eXtrack serves as an efficient solution to streamline and expedite the procedure of employees' reimbursement for expenses. By automating and simplifying the intricate tasks related to managing travel and expenses (T&E), the platform offers both web and mobile applications for seamless submission, verification, and endorsement of expense claims. The approval workflow can be easily customized to align with the organization's preferences.
Advanced AI auto-scanning capability, which enables claim submitters to effortlessly extract travel bill details from scanned images or files.
Easy configurable approval process.
Notifications and alerts to approvers for each claim submission, to approve or reject with one click
Offline feature to store bills and submit them when back online.
Analytical dashboards for data-analysis, reporting and tracking
Integration with third-party HR software (i.e. ZohoPeople) for updating employee profiles and approval details
Integration with Trip Planner to link with planned/completed trips

Web based eCommerce Platform
eConnect is a platform for buyers to collaborate with vendors, providing a seamless and efficient way to process procurement related transactions covering the complete cycle.
eConnect provides standard and premium features such as, managing vendor profile, enquiries – quote – ordering, invoice registration, and more. Can be integrated with buyers' and vendors' respective systems, enabling seamless data flow throughout the procurement transaction for efficient data flow. Buyers and vendors can communicate real-time to enhance service and quality.
Standard features such as:
Interactive dashboard for real-time updates on shipping confirmations, pending enquiries, quotes, orders, and payment status, ensuring complete transparency and information visibility
Exchange of enquiries, quotations, orders, and confirmations
Information on goods received
Premium features such as:
Invoice and credit note registration to help vendors register invoices and credit notes through eConnect to buyer's system, resulting in faster invoice processing
Logistics tracking for forwarders and warehouses, to update the delivery status of order
Chat function facilitating bridge between the buyer and vendor, providing swift and instantaneous communication. Offline messaging with conversation history tracking.
Vendor online registration and real-time updates on vendors profile data with built in approval cycles.
Integration solutions for:
Transaction cycle RFQ to PO
Invoice/CN registration
Logistics – Forwarders and warehouse
Agents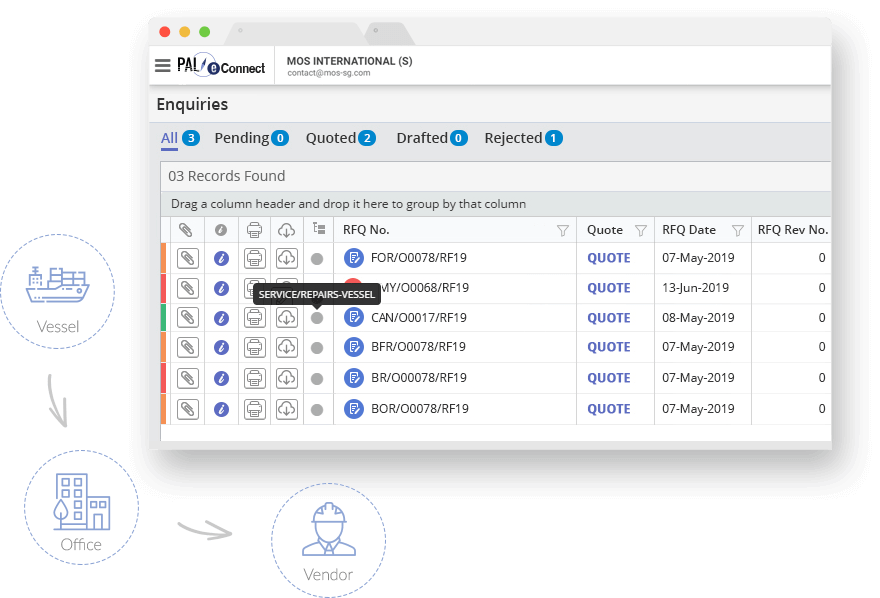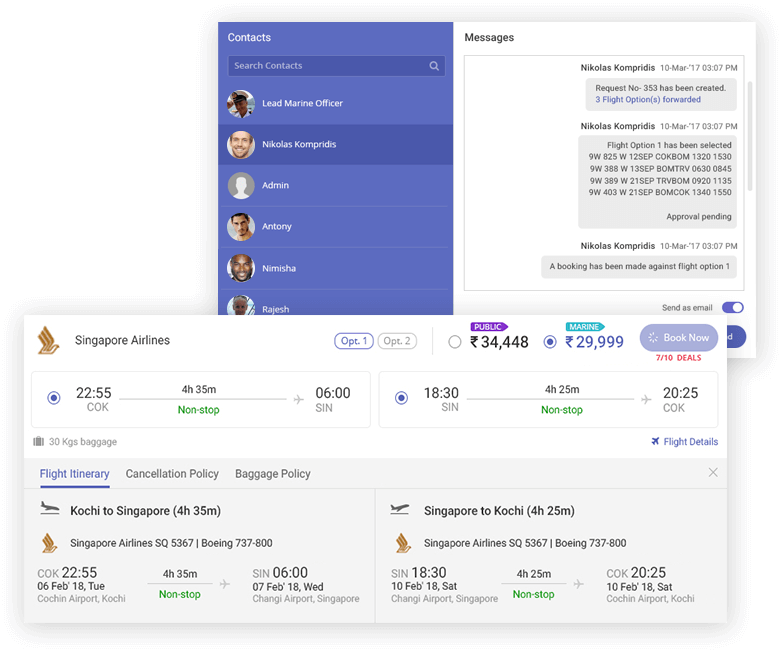 Travelling made efficient
Holistic travel management system acting as a bridge between corporate companies and travel agent groups. It can be a standalone product or can be integrated with HR, Crewing, and/or Accounting systems. Trip Planner eases the process of creating travel requests and tracking them by offering all these features on one platform. Travel agents can manage the travel request, raise ticketing options, and process them. Trip Planner provides management with reports that provide insight into travel expenditure, destination reports, and other relevant data.
Single solution for travel agents and for their customers
Simple and intuitive to configure, manage, and use
Create, track, and manage all travel request on a single platform
Tailored ticketing process to suit ship management companies
Achieve minimal assistance from travel agent
Integration with GDS systems worldwide
Integration with HR, Crewing, and Finance systems
Obtain public fare, marine fare, and corporate fares
New Building is a project management software module for new ship constructions and is designed to track the progress of construction and testing activities during the shipbuilding process. Construction progress records and documents such as inspection status, NCR, FAT, Sea Trials, and various checklists can be organized, offering dynamic and customizable configurations to suit your unique work processes. Consolidated data from the records, which are displayed as dashboard tiles and generate monthly or weekly reports, are the main highlight of this module. Increasing numbers of shipyards are turning toward digital solutions to handle these complex new building projects and achieve new business opportunities in this dynamic industry.  Any data you have that is currently formatted for your specific needs can easily be converted into this module and be presented as desired.
Dynamic and highly customizable graphical reports
Rich UI dashboards to monitor the progress of new construction
Analytical data reports that display every data record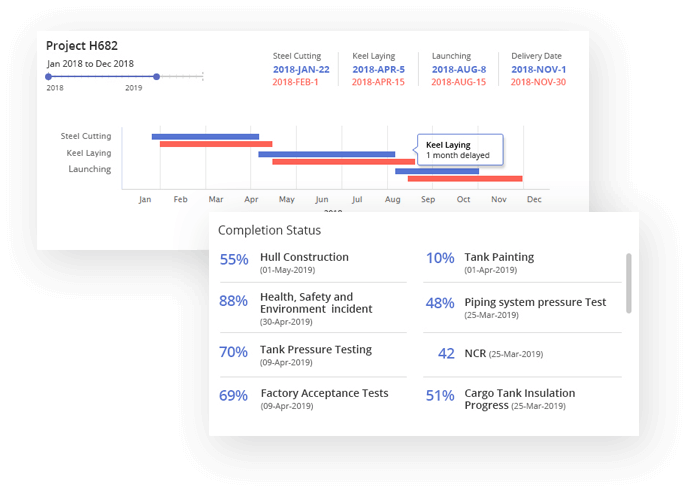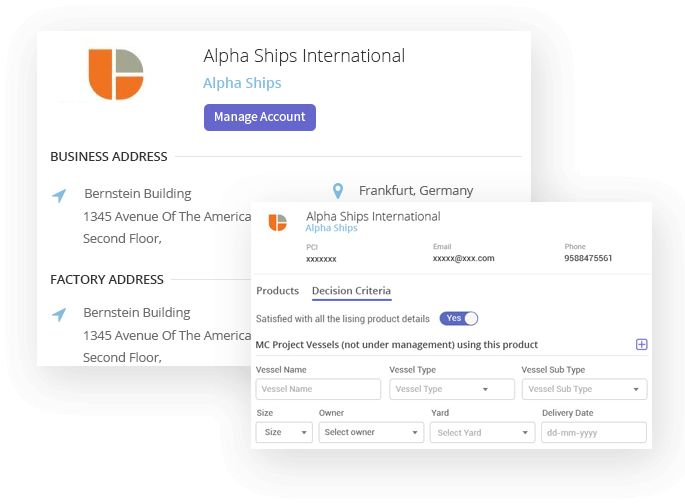 The Makers Portal module is a data storage software system for suppliers and manufacturers of ship parts and machines. The system includes a portal that can be used by sellers or manufacturers anonymously or by invitation. The data pool consists of vendors' or manufacturers' company details, the company history, product history, the location of manufacturers and product details with product and equipment lists. It also contains the track record and capacity, customers, agents, and worldwide services, company and product classification. The approval process of companies or products can be managed all through this online module. Features such as company or product evaluation, decision criteria, OPEX cost calculation, unplanned jobs, etc. are also available through this module.
Detailed search for products
Features to rate companies or products for future smart decision making
Feature to calculate OPEX costs and unplanned job costs
Through the portal, makers can register themselves with primary company details in the weblink itself
The Plan Approval module is a ship plan approval software designed for making the ship survey process more efficient and ensures that the vessels' designs reflects the requirements of the various conventions, regulations, rules, and flag states. This document flow control system checks and approves ship drawings. Single or multiple ship drawings can be uploaded under a project, and each project is then assigned a workflow accordingly. On this ship plan approval software, the ship drawings are accessible to various users such as shipbuilders, plan approval coordinators, experts, ship owners, etc. according to the workflow defined by the user. Plan Approval is an intrinsic digital solution aimed to improve on the technical aspects and software maintenance and updates. This ensures the efficiency and quality of the plan approval process, increasing convenience for you. For each drawing there is an industry standard sheet (for approval of a ship drawing) called Plan Comment Form (PCF). The PCF form is divided into two sections, "Builder" and "Buyer". The shipbuilder comments on the "Builder" section and the other users (such as experts, owners, technicians, plan approval coordinator, etc.) comment on the "Buyer" section. A drawing is finally approved when all comments in the PCF are complete.
Sophisticated system for managing ship drawings
Customizable workflows
Industry standard Plan Comment Form
Ability to work online and offline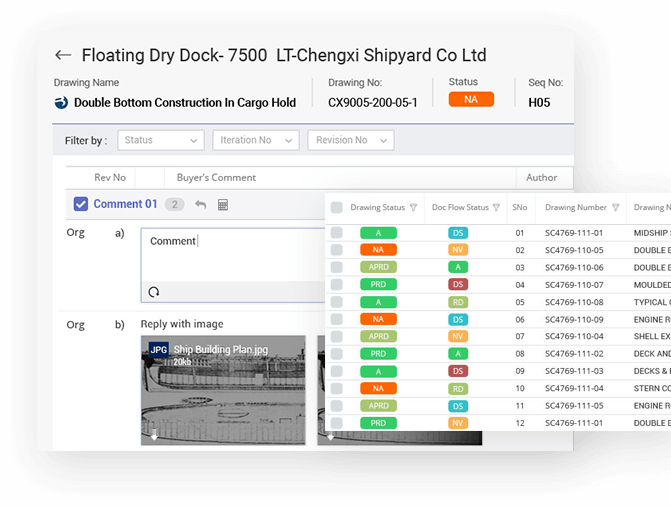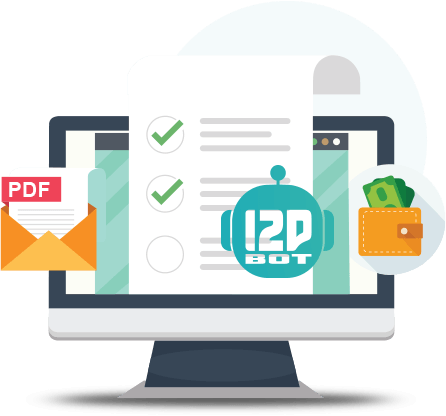 Invoice to Pay is a marine invoice automation system featuring an automated scanning solution for efficient procurement
I2P bots are a cognitive automation solution that enables an efficient procure-to-pay cycle. MariApps' smartPAL presents I2P bot, this marine Invoice automation system can scan, interpret, and extract data intelligently for the invoice processing systems. Transforming long cycle times and delayed payments to efficient and error-free systems with cognitive automation bot in the well advanced I2P module. Mitigate recurring manual process and make your business move faster with smartPAL's I2P
Monitors duplicated invoices and reduces downtime
Discovers special characters in invoices and adds it to the data dictionary
Organizes unique invoice formats as templates
Scales seamlessly, from a few to millions of invoices
Authenticates a generic invoice
Tracks when the invoice was received and processed
Delivers at least 80% accuracy in scanning
Can be used for multiple offices operating from various geographical locations
Protects scanned data against tampering
MAXv is a unified endpoint management (UEM) solution that helps in managing servers, laptops and desktops onboard vessel from a central location. The application protects the vessels' systems with automated regular endpoint management routines like installing patches, deploying software, imaging and deploying OS without interrupting the business process or destroying the information. It is part of a cybersecurity solution from MariApps that lets you manage assets & software licenses, monitor software usage statistics, manages USB device usage, monitors control of remote desktops, and much more.
Securing network devices through automatic or manual patch deployments for Microsoft and third-party applications
Deploy software remotely to network devices onboard vessel within a few clicks
Manage IT assets effortlessly with inventory scan that automatically runs and sends data whenever there is a change in the network device e.g. add new hardware or install/uninstall software etc:-
Control and manage security vulnerabilities like outdated patch by deploying the latest software manually or automatically to ensure network devices are running on the newest software or applications
Remote access to network devices to troubleshoot issues
Control network devices with pre-defined configurations ranging from USB lock to create share folders and more.