Independent Software Vendor (ISV)
Marine Digital solutions leader, MariApps, advances its partnership with Microsoft
MariApps advanced its partnership with Microsoft to become Independent Software Vendor (ISV). Started as a Silver Application Development Partner in 2012, MariApps became a Gold Partner in application development in 2013 and has been maintaining the partnership requirements since then.

"The future of MariApps is very exciting. As a forward-thinking company, it is digitally transforming the shipping world with its product offerings. We are very happy to get MariApps as a Microsoft ISV"
Peggy Antonakou
General Manager
Microsoft Greece, Cyprus & Malta.
Vessel Performance Improvement/Monitoring
MariApps and Navidium Technical Partnership.
Navidium Plc is a Maritime CleanTech company, which has a wide range of new innovative IoT products for the maritime industry. Navidium´s strategy is to provide innovative solutions to its customers to increase their revenue without sacrificing sustainable values. Effective use of routing, decreased levels of non-value adding time and efforts, and reduced overall operational costs combined with reduced levels of emissions, increased visibility of operations, and compliance with regulations.

We have developed alliances to help our clients become high-performance businesses  and to get added value of technology investments. Our alignments with established and emerging players enable us to deliver comprehensive solutions to our clients. Our global services and delivery quality are known and respected.
Arto Johannes Koistinen
CEO
Navidium
Advances its partnership with Binfer
We have established a great partnership with MariApps and their dedication is evident in all aspects of the software. I appreciate their attention to detail and approach towards ensuring that the software is user friendly and at the same time it has all the functionality that we need on a daily basis.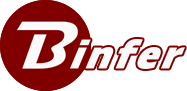 "A world class maritime software with dedicated and highly skilled professionals. The attention to detail and user friendly functionalities are much needed on a daily basis."