Ship certificate management software
MariApps' Marine Quality and Safety Management System allows quick access to your survey records and certification documents
Our ship certificate management software system provides complete integrity management and standardized marine quality and ship safety management solution for all certification documents and surveys records related to the safety management system SMS operations of vessels.
The certificate management module of smartPAL provides the solution to the maritime industry to ensure the certificates of each unique vessel type and/or flag are up to date, allowing ship managers to closely monitor and follow up on the operational and compliance of their vessels for regulatory body and class requirements.
Efficient and imperative monitoring based on the color code of the certificates and other ship-specific documents. This module offers the ability to create predefined types of ship certificates and helps to link it to each ship as a default structure of certifications, to give alerts prior to renewals or due dates of the inspections through specific built-in reminders.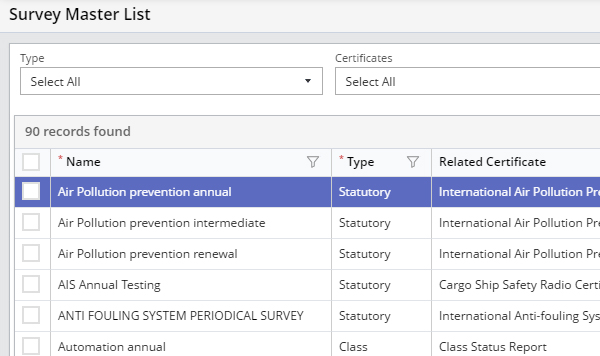 Key Features of smartPAL Ship certificate Management Software
A web-based fleet management software for the company to connect their offices and vessels, irrespective of location
Fully secure application that requires user privileges to access
No limitations on certificates, allowing the user to add multiple certificates to the vessels and the other class requirements
The dashboard-based, one-stop, automatic alerting system helps provide alerts on the expiration of the certificates of multiple vessels
Status is color coded to alert the direness of action needed to be taken for certificates and surveys. Red denotes the certificates require immediate action. Orange denotes the certificates will expire within a month. Yellow denotes the certificates will expire within two months
Keeps track and prompts users about the agreement of any documents such as the condition of class, dispensations, attestations, exemptions, and memoranda
Renewal Mechanism is in essential in managing certificates and surveys of the fleet, ensuring equipment, class, safety, or all other certificates or surveys are renewed on time and managed efficiently
Our ship certificate management software system allows to alter certificates to be categorized based on the class, safety, flag state, etc., according to the requirements of the company and
ships
Authority flexibility supports special arrangements to be specified for crew management while updating the certificate records
Reporting System helps to report all the certificates belonging to the fleet by ship, category, certificate type, and expiry date
LPSQ
LPSQ
LPSQ ensures the compliance requirement of a vessel is tended to Non-conformities are highlighted to take the appropriate action in ensuring safe and compliant operations.
QDMS
QDMS
QDMS is a ship-shore integrated ship safety management module that allows the company to reduce the administrative burden of document management.