What are MARPOL electronic record books?
MARPOL electronic record books are all the records maintained digitally by the crew onboard in accordance with international laws and regulations. These were traditionally paper-based records that have evolved with digital technologies.
Why are MARPOL record books required? 
MARPOL's various conventions require the use of record books. These conventions include regulations aimed at preventing and mitigating pollution from ships, both accidental and routine. Maritime insurance providers may need record books and logs in some circumstances to validate legitimate surveys and claims.
On May 17, 2019, the IMO's MEPC 74 adopted resolutions authorizing the use of electronic record books, as well as usage guidelines. These amendments, which went into effect on October 1, 2020, were meant to alleviate the administrative burden associated with paperwork.
Traditional paper-based record books

Image source – amazon.com, pmcmedia.com & durasafe.com.sg
Types of record books:
Oil Record Book Part 1 & 2 – ORB Part 1 & 2. MARPOL Annex I, regulations 17.1 and 36.1
The responsible officer should maintain a record book of all oil or sludge transfers and discharges from the vessel. All cargo vessels that are subject to MARPOL need to maintain an oil record book. ORB Part 1 covers machinery space activities, whereas ORB Part 2 covers cargo or ballast operations.
Garbage Record Book Part 1 & 2 – GRB Part 1 & 2. MARPOL Annex V, regulation 10.3
The garbage record book contains all entries pertaining to garbage disposal and discharge. GRB part 1 is applicable to all ships and is used to record all garbage related entries except cargo residues. GRB part 2 applies to solid bulk cargo-carrying vessels and is for cargo residues.
Cargo Record Book 1 (Noxious liquid substances in bulk) – MARPOL Annex II, regulation 15.1
Every vessel that transports bulk noxious liquid substances and ballast must carry a Cargo Record Book, which provides records about cargo handling and management.
Emission Record Book MARPOL Annex VI, regulation 12.6 (Ozone-depleting Substances Record Book)
The Annex VI requirement to keep a list of equipment containing ozone-depleting substances and an Emission Record Book applies to ships of 400 GT or greater that embark on international voyages. The emission record book also allows for the recording of NOx and SOx related data.
For example:
Recording of the tier and on/off status of marine diesel engines (MARPOL Annex VI, regulation 13.5.3)
Records of Fuel Oil Changeover (MARPOL Annex VI, regulation 14.6)
Ballast Water Record Book – BWRB. Regulation B-2
According to regulation B-2, a ballast water record book is required to record all ballast water management data such as storage, treatment, and discharge.
Biofouling Record Book. Annex 26
All inspections and biofouling management measures undertaken on the ship are documented in a biofouling record book.
MARPOL Seal Logs
MARPOL Seal Logs ensures proper sealing of systems including pumps, pipelines, and flanges that could cause marine pollution. Seals are allocated a unique number and their location, date, and time stamps are recorded in the Seal Log. The Chief Engineer oversees maintaining all Seal Logs on board. If the seal is to be removed, the reason for doing so must be documented.
MARPOL Sample History Log – MARPOL Annex VI, resolution MEPC 182 (59)
A sample history logbook is used to record the details of fuel oil sampling. According to MEPC 182 (59), resolution fuel oil samples must be secured, sealed, and stored for compliance purposes, together with bunker name, location, date, time stamps, seal information, retention duration, and disposal information. The Master oversees maintaining this logbook.
For further detailed information on various MARPOL Annex, you can read here at IMO.org
To fully comply with MARPOL, the electronic record book system should include provision for retaining all records for the minimum period stipulated in MARPOL's related Annex. On request from relevant authorities, the ERB system should be able to generate tangible copies of verified records for the master. Furthermore, the ERB system should have an automatic backup in offline mode.
The Flag State will assess and provide a declaration of MARPOL Electronic Record Book(s) upon approval of ERB usage onboard a vessel as a substitute for traditional paper-based official hard copy record books, this declaration should be kept onboard at all times and presented to authorized officials. SMS – Safety Management System – ERBs must be documented.
MariApps' Electronic Record Books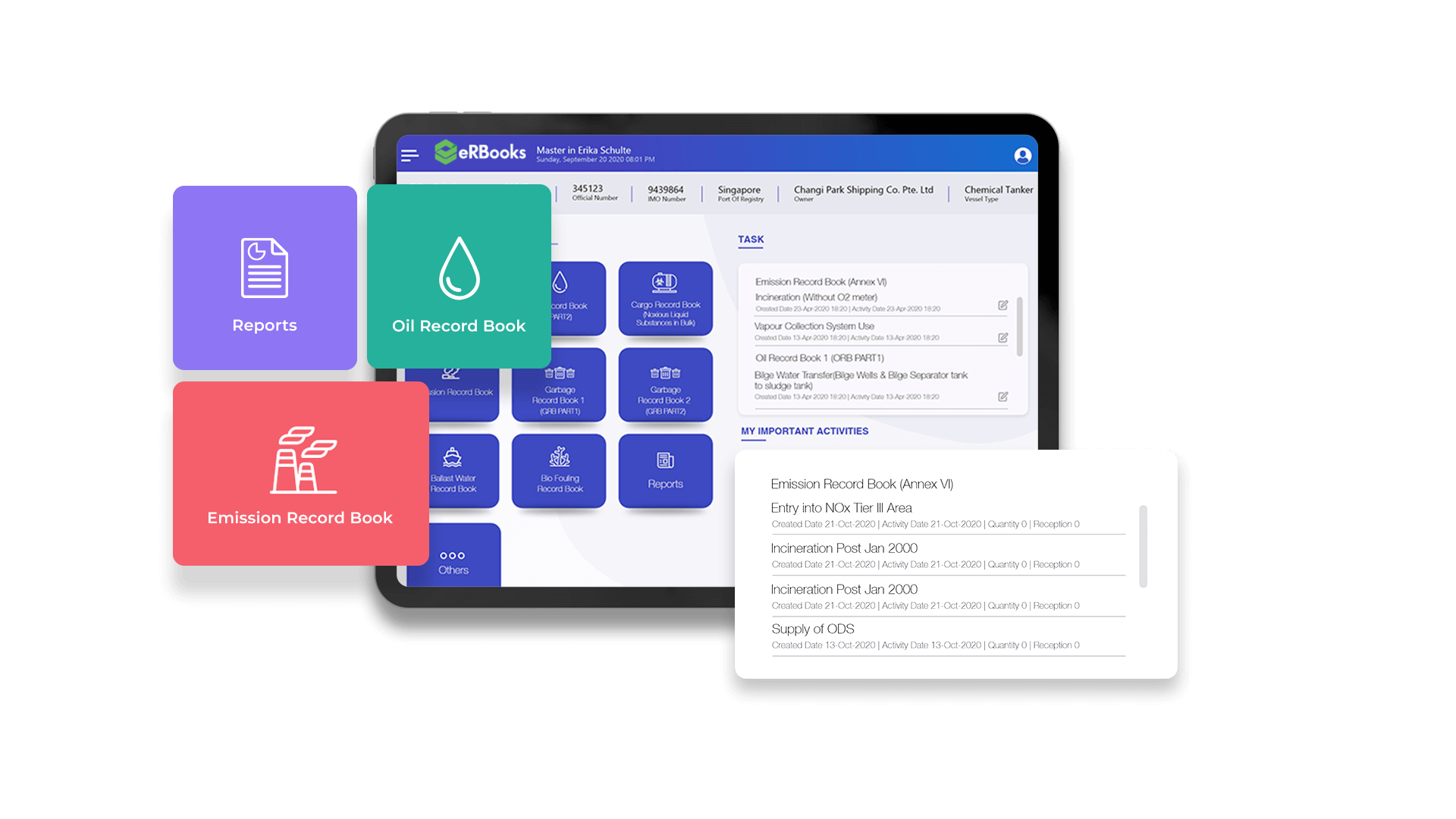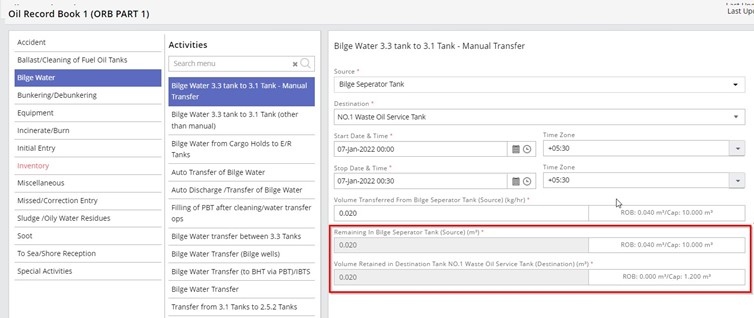 Problems faced when using traditional paper-based record books
| | |
| --- | --- |
| Problems | Causes |
| Administrative burden | Manual management of records/logs through paperwork |
| Inaccuracy in the record and log management | Human errors and fraudulent entries |
| Loss or misplacement of records or logs | Manual record/log management |
| Red flags on compliance requirement | Non-standard and inconsistency record and log management |
Most maritime digital solution developers addressed the issues encountered when using traditional record books. The major goal was to assist and facilitate easier record management.
| | |
| --- | --- |
| Solutions | Benefits |
| Digital record management | User-friendly application to manage records/logs |
| Automatic calculation and validation | Accurate and error-free record/log entries |
| Central storage | Records and logs can be accessed onboard from any location onboard. Also replicated to shore. |
| Compliance with IMO, MARPOL, and other relevant regulatory bodies | Legally compliant vessel records/logs that aids in avoiding penalties and fines |
MariApps' Electronic Record Books Offerings
MariApps provides maritime digital solutions that improve business process efficiency and ease operations. Our products, eRBooks and eLogs, are precisely built for replacing paper-based records and logs. More information about MariApps' eRBooks.
Secured access with multi-level verification
Accuracy using automated calculations and validations
e-Signature
Data encryption with AES-256
Automatic reminders, reports, and printable copies in-line with compliance
Operational display screens
Accessibility from all bases
—————————————————————
Author
Prabhat BILLORE
Maritime expert and seafaring veteran with over 20 years of practical experience
Senior Product Specialist at MariApps Marine Solutions